Reader Reviews
FUNNY!
HONEST!
PRACTICAL!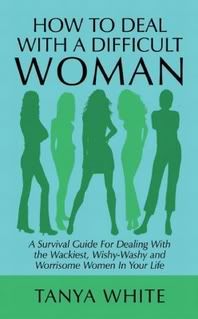 Hear what readers are saying
about the awesome new book
How To Deal With A Difficult Woman!
Hi Tanya! I recently ordered your book and it was FABULOUS! I could not put it down! I read it in a day! -Bonetta Lynch, Laurelton, NY

I just wanted to take a moment to share how much I enjoyed reading your book, 'How to Deal With a Difficult Woman.' It was funny, easy to read, and best of all, covered so many scenarios we deal with each day. In October, I used the book as the basis for my Sister Circle group, here in Philadelphia. We each used a personality, read the description, and discussed how we dealt with that particular woman in the past. Then, we read your recommendations. Many of the sisters identified that THEY were those women, and could see the reaction others take to their ways. It was an awesome night. When we read about the WOW women, we focused on how we could be those women, and leave those other character traits in the past. I can't tell you how much of a blessing this book as been to us. I refer to it often, when I face a situation with one of these difficult women. I also use the book as a guide to show me when I am over the edge. Thank you so much for putting this book together. Please, keep sharing with us these precious gems.-Christine Pembleton, Philadeplia, PA



"This book is a must read! The fun and hilarious story line makes it a very enjoyable book. How To Deal With A Difficult Woman will leave you reminiscing about the difficult women you have encountered in your past, while forever equipping you for all of the difficult women who will come." –T. Taul, Ph.D candidate/ School Educator
"This book serves as a 'pocket psychiatrist' for those who need guidance from a seasoned professional. Keep this book with you at ALL times!! You'll definitely refer to it every time you find yourself wondering... 'How can I handle this situation--and maintain my dignity?' If you're looking for tools to wisely interact with the women in your life, then this book is for you."—P. Jones, Analyst, State of Government
'This is the most insightful guide I have ever read. I was searching for ways to deal with other women's sassy, conniving attitudes and found myself on every other page as well. You will analyze the person in the mirror and truly know how to deal with all of the other difficult women as yourself in the world.'- E. Jones, Founder & CEO, Brighter Days Ahead Mentoring Program
'How to Deal With A Difficult Woman, is phenomenal! I love it! It's not just an appetizer that appeases your appetite for the moment, but it gives you the meat and potatoes of the various characteristics we as women share and how to maintain a healthy relationship with those women that we label difficult or hard to deal with and what I love the most is it allowed me to see reflections of myself in the various descriptions it portrayed.' -C. Azubuike, Author/Radio Personality
"I strongly recommend 'How To Deal With A Difficult Woman' to others. There is alot of humor in each chapter, but at the root of each profile is 'nothing but the truth' throughout the book. -M. Page, Founder/Executive Director Rhonda€™s Another Chance, Inc. - Transitional Living for Women
"I admire and appreciate the truthfulness of How To Deal With A Difficult Woman. It reminds you of the complexities of womanhood. Thanks for another resource to help women re-evaluate who they are and motivate them to move forward in a positive way. I highly recommend the book. It's an essential read for both men and women."-K. Thompson, President, Ad Specialties 4U, Inc.
"From the profiles of Jealous Julie, Seasonal Suzy, Dirty Deliah and Jiving Jezebel this book had me laughing the entire time while I was in the airport. It's a very easy read."-J. Sanders, Evangelist
"This is AWESOME! No doubt that this will be a best seller. I have never read a piece that almost made me scream aloud at work! It is an easy read, practical, humorous and true."-N. Barnes, Author or Restoration of A B.A.D. Girl
"This book reminded me that every person needs the tools to effectively communicate with other women throughout the world."-S. Bray, Founder & CEO of Women's Evangelical Network
---