Girl, You Can Win! Synposis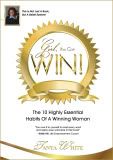 Girl, You Can Win!
Paperback: 101 pages
Publisher: AAA Publishing (March 2010)
Language: English
ISBN 10: 0981684785
ISBN 13: 9780981684789
We were all born to win. We were even built to win. Now, it's time that we start believing that we can win!
Girl, You Can Win!: The 10 Highly Essential Habits Of A
Winning Woman is packed with refreshing nuggets of practical daily wisdom that will change a wishing woman into a winning woman. After reading this book, you are guaranteed to tear down the strongholds of those defeating mindsets by applying Tanya White's winning combination of insightful and inspirational nuggets of profound life wisdom. A surge of power will erupt from each page of this awesome read, which is destined to compel you to immediately change your "No I Can't" attitudes into "Yes I Can" actions.
In just over 100 pages that are filled with winning words of wisdom, you will undoubtedly begin
to:
• Unleash your inner winner and stop comparing yourself to others
• Press past your unending pain to pursue your unlimited possibilities
• Attract other winning people who really want you to win and win big
• Stop procrastinating and start performing even in the midst of your obstacles
• Develop the unwavering confidence to finally accept yourself as a winning woman
Girl You Can Win!: The 10 Highly Essential Habits Of A Winning Woman is more than a new book, but it is a necessary belief system. Your big wishes will undoubtedly become huge wins after you implement Tanya White's winning formula every day and in every way.
---