Girl, You Can Win! Workshops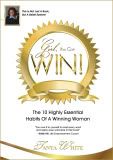 Girl, You Can Win!

Winning Woman Workshops

Book Tanya now to conduct one of these winning workshops from the book Girl, You Can Win for your women's group, conference or upcoming event. All workshops can also be keynotes or combined as a 1-day retreat.

• Win Girl, Win!: 5 Sure Fire Ways To Unleash Your Inner Winner

• No More Comparisons: How To Be Your Best Without Intimidating The Rest

• Can't We All Just Get Along?: Developing Collaborations That Really Work

• Girl, You Better Network!: A Woman's Guide To Winning At Networking

• Stop Worrying, Start Winning!: How To Conquer Doubt, Procrastination and Fear

• The Winner's Circle: How To Connect With People Who Really Want You To Win Big

• Saying Yes To No: How To Tactfully Tell People No Without Regret or Guilt

• Losing Big, Winning Even Bigger!: 10 Winning Lessons To Learn When You Think You Are Losing

• How To Clear The A.I.R.: Overcoming Issues of Abandonment, Insecurity and Rejection

• Wounded But Still Winning: Pressing Past Your Unending Pain To Pursue Your Unlimited Possibilities

For questions, comments or to book Tanya as a speaker for your upcoming event, please email tanya@tanyawhite.com or call 502-836-9760.
---